It is almost certain that you or your loved ones have already experienced some extreme weather event. We have become accustomed to blaming climate change for this. For floods and droughts. For heat waves, for biodiversity loss. For problems with food growing or migration.
Floods, droughts, heatwaves, biodiversity loss, food, water security and migration are linked to water. Therefore, it is logical to say that water-related solutions must be sought as a matter of priority, and the whole world underestimates this. Today's civilization perceives water as a disposable mineral.
By changing the water paradigm, one has the opportunity to cope with floods, droughts, heat, food, biodiversity, weather extremes and migration with a single solution.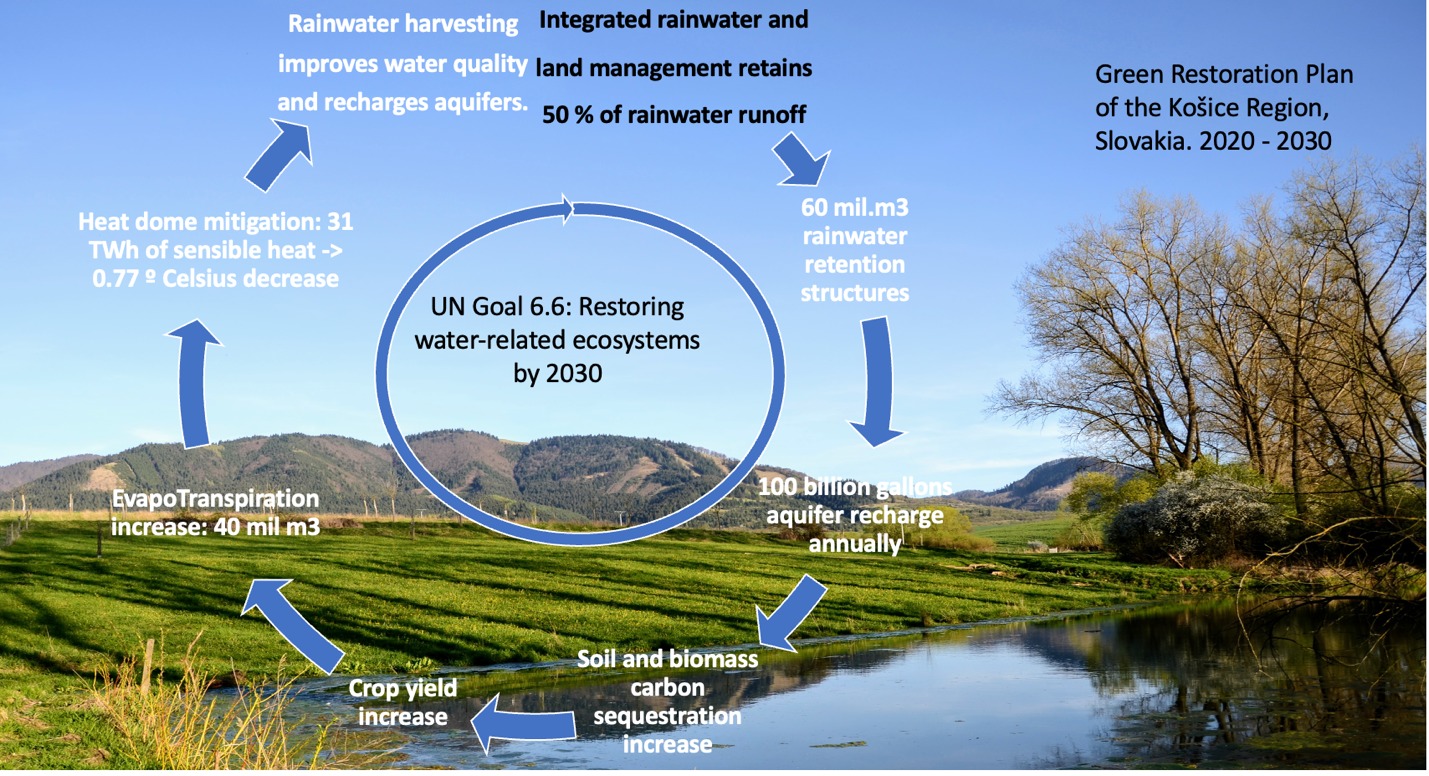 What we bring
WaterHolistic Slovakia has developed a solution which in practice means the transformation of a dry landscape into a lush green with an abundance of water and life. Regardless of the type of landscape, we can restore life in a parched country with the return of water, soil fertility, biodiversity with climate recovery and even the return of lost rain.
We offer consultations and services in the processing of solution proposals for your specific territories at the individual, community and regional level. We offer the preparation of strategic public policy plans on how to restore and heal the climate at the local, regional and territorial levels. Together with our partners, we also offer the implementation of projects according to your expectations with a return of up to 10 years.
WaterHolistic Slovakia was established with the background of more than 30 years of research, knowledge and expertise of Michal Kravčík, winner of the Goldman Environmental Award (www.goldmanprize.org), which was written with colleagues in the New Water Paradigm (Water for Climate Healing – www.waterparadigm.org) , from which a simple message follows: "Everything a man has done wrong can be fixed"
EXPERIENCE
The first ecosystem regeneration project of the damaged landscape was created in 1993, as an alternative to the dam in Slovakia. Michal Kravčík and his team designed the Blue Alternative solution, the aim of which was to create a water source for ecosystem regeneration of the landscape. This solution for the creation of water resources proved to be more than 10 times cheaper compared to the conventional solution of a dam. https://peopleandwater.international/ecosystem-water-production 
The experience gained from the Blue Alternative project was further developed, tested and practically verified by the Michal Kravčík team. It follows that this solution brings benefits not only for the acquisition of water resources, but also flood prevention, biodiversity restoration, climate recovery and the development of the local economy.
These findings at the regional level of one region in Košice confirm that such a model of economic development with climate recovery is economically viable and a real way and opportunity for all regions of the world that suffer from water shortages for food, water, climate security and seek solutions to a new perspective. economic development in the ongoing climate change.
Čermeľská cesta 24,Košice 04001, Slovakia
Let's change the planet together. Let's start now
Let's not wait for uncertain times. We think globally, let's act locally.